About ConceptEdge
Concept Edge - "An Innovative Approach"
Brian Worman, founder and Managing Director of Concept Edge
Since its inception in 1994, Concept Edge has exclusively partnered with Di Blasi in providing a range of folding vehicles to the UK market place.
The key reason for this close association according to Brian Worman, founder and one of the Directors of Concept Edge is that "Di Blasi is committed to providing a range of well designed and thought out folding mopeds, bicycles and tricycles. Their desire to continually innovate and simplify the folding process provides an extremely close fit to the corporate philosophy of Concept Edge, that is to provide innovative products to the UK".
All Di Blasi vehicles are exceptionally easy to fold and available in a variety of colours. They are also, as one would expect of an Italian product, well designed and of good build quality. Simply contact us if you would like any further information on the products or details on how to purchase
About DiBlasi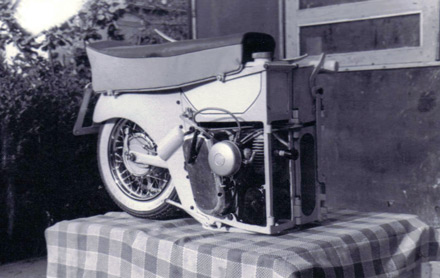 A History of Innovation
Rosario Di Blasi (1909-2008) founded Di Blasi Industrie out of a combined passion for innovation and ease of use. After spending WWII as a pilot, eventually being discharged as a major, and where he turned his mind to various technical challenges he found himself living in Rome.
It was there after lugging a bicycle up several flights of stairs to keep it away from the clutches of potential thieves, as exemplified by the famous film Bicycle Thieves (Italian: Ladri di biciclette) he started to sketch out ideas for a folding bicycle. Today, folding bicycles play a part in everyday life everywhere but the concept that could be easily stored and carried was revolutionary.
With burgeoning prosperity bicycles were soon replaced by scooters as the ride of preference and likewise Mr Di Blasi and his sons turned to the idea of a folding scooter.
By 1973 Di Blasi folding bicyces and scooters were ready and were revealed to the world at the Motorcycle and Bicycle Show of Milan in 1973. Just a year later Di Blasi took his products to Cologne Motorcycle and Bicycle Show in Germany. The products were an immediate success and exports began.
Today Di Blasi exports its products all over the world. Foldability is still at the heart of its approach to innovation but it has embraced the need for quieter and cleaner forms of power as exemplified by its popular R70 Electric Moped.
Spares: For spares, please note the reference of the part you require, then contact us here at Concept Edge and we will order it for you.